Connect Your Google Analytics Performance with All Your Data
Drive Meaningfull Insights from Google Analytics
Google Analytics is a web analytics service that tracks and reports website traffic.
Automatically pull data from Google Analytics, which can then be grouped with data from other marketing platforms and automatically fed into your Data Warehouse, BI solution or visualization tool.
With just a few clicks, connect your Google Analytics account to any data warehouse of your choice and watch your data load in real-time. Experience a hassle-free, zero-maintenance data load.
Make marketing data easy - supercharge your standard Google Analytics subscription and own your data.

Load data from your Google Analytics views into a destination of your choice.

Extract all data - run unsampled queries on your entire data set.

Set and forget - continuous daily data updates via the automation built directly into Launchpad.

Flexible configuration settings enable refreshing your data daily for the last 30 days (attribution).

Your historical data is archived and accessible for analytics and reporting needs….forever.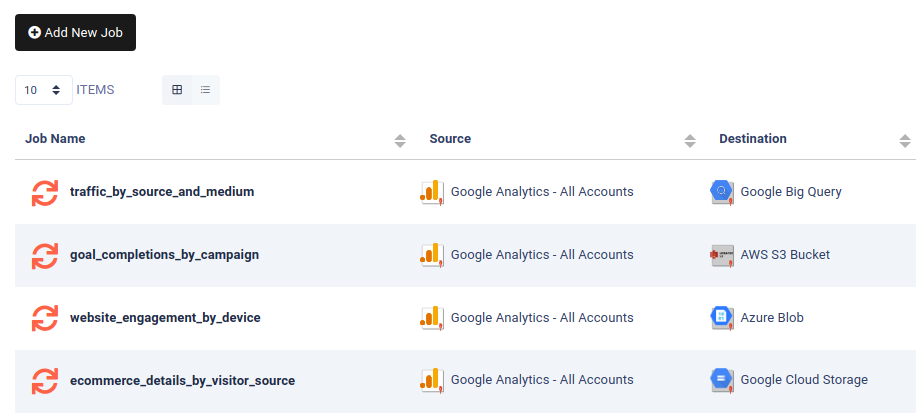 ---
What data can I get from Google Analytics?
Available endpoints and fields are available from Google Analytics through Launchpad.
Google Analytics
Dimensions
User Type
Count of Sessions
Days Since Last Session
User Defined Value
User Bucket
Metrics
Users
New Users
% New Sessions
1 Day Active Users
7 Day Active Users
14 Day Active Users
28 Day Active Users
30 Day Active Users
Number of Sessions per User
Dimensions
Session Duration
Metrics
Sessions
Bounces
Bounce Rate
Session Duration
Avg. Session Duration
Unique Dimension Combinations
Hits
Dimensions
Referral Path
Full Referrer
Campaign
Source
Medium
Source / Medium
Keyword
Ad Content
Social Network
Social Source Referral
Campaign Code
Metrics
Organic Searches
Dimensions
Google Ads: Ad Group
Google Ads: Ad Slot
Ad Distribution Network
Query Match Type
Keyword Match Type
Search Query
Placement Domain
Placement URL
Ad Format
Targeting Type
Placement Type
Display URL
Destination URL
Google Ads Customer ID
Google Ads Campaign ID
Google Ads Ad Group ID
Google Ads Creative ID
Google Ads Criteria ID
Query Word Count
TrueView Video Ad
Metrics
Impressions
Clicks
Cost
CPM
CPC
CTR
Cost per Transaction
Cost per Goal Conversion
Cost per Conversion
RPC
ROAS
Dimensions
Goal Completion Location
Goal Previous Step - 1
Goal Previous Step - 2
Goal Previous Step - 3
Metrics
Goal 1 Starts
Goal 2 Starts
Goal 3 Starts
Goal 4 Starts
Goal 5 Starts
Goal 6 Starts
Goal 7 Starts
Goal 8 Starts
Goal 9 Starts
Goal 10 Starts
Goal 11 Starts
Goal 12 Starts
Goal 13 Starts
Goal 14 Starts
Goal 15 Starts
Goal 16 Starts
Goal 17 Starts
Goal 18 Starts
Goal 19 Starts
Goal 20 Starts
Goal Starts
Goal 1 Completions
Goal 2 Completions
Goal 3 Completions
Goal 4 Completions
Goal 5 Completions
Goal 6 Completions
Goal 7 Completions
Goal 8 Completions
Goal 9 Completions
Goal 10 Completions
Goal 11 Completions
Goal 12 Completions
Goal 13 Completions
Goal 14 Completions
Goal 15 Completions
Goal 16 Completions
Goal 17 Completions
Goal 18 Completions
Goal 19 Completions
Goal 20 Completions
Goal Completions
Goal 1 Value
Goal 2 Value
Goal 3 Value
Goal 4 Value
Goal 5 Value
Goal 6 Value
Goal 7 Value
Goal 8 Value
Goal 9 Value
Goal 10 Value
Goal 11 Value
Goal 12 Value
Goal 13 Value
Goal 14 Value
Goal 15 Value
Goal 16 Value
Goal 17 Value
Goal 18 Value
Goal 19 Value
Goal 20 Value
Goal Value
Per Session Goal Value
Goal 1 Conversion Rate
Goal 2 Conversion Rate
Goal 3 Conversion Rate
Goal 4 Conversion Rate
Goal 5 Conversion Rate
Goal 6 Conversion Rate
Goal 7 Conversion Rate
Goal 8 Conversion Rate
Goal 9 Conversion Rate
Goal 10 Conversion Rate
Goal 11 Conversion Rate
Goal 12 Conversion Rate
Goal 13 Conversion Rate
Goal 14 Conversion Rate
Goal 15 Conversion Rate
Goal 16 Conversion Rate
Goal 17 Conversion Rate
Goal 18 Conversion Rate
Goal 19 Conversion Rate
Goal 20 Conversion Rate
Goal Conversion Rate
Goal 1 Abandoned Funnels
Goal 2 Abandoned Funnels
Goal 3 Abandoned Funnels
Goal 4 Abandoned Funnels
Goal 5 Abandoned Funnels
Goal 6 Abandoned Funnels
Goal 7 Abandoned Funnels
Goal 8 Abandoned Funnels
Goal 9 Abandoned Funnels
Goal 10 Abandoned Funnels
Goal 11 Abandoned Funnels
Goal 12 Abandoned Funnels
Goal 13 Abandoned Funnels
Goal 14 Abandoned Funnels
Goal 15 Abandoned Funnels
Goal 16 Abandoned Funnels
Goal 17 Abandoned Funnels
Goal 18 Abandoned Funnels
Goal 19 Abandoned Funnels
Goal 20 Abandoned Funnels
Abandoned Funnels
Goal 1 Abandonment Rate
Goal 2 Abandonment Rate
Goal 3 Abandonment Rate
Goal 4 Abandonment Rate
Goal 5 Abandonment Rate
Goal 6 Abandonment Rate
Goal 7 Abandonment Rate
Goal 8 Abandonment Rate
Goal 9 Abandonment Rate
Goal 10 Abandonment Rate
Goal 11 Abandonment Rate
Goal 12 Abandonment Rate
Goal 13 Abandonment Rate
Goal 14 Abandonment Rate
Goal 15 Abandonment Rate
Goal 16 Abandonment Rate
Goal 17 Abandonment Rate
Goal 18 Abandonment Rate
Goal 19 Abandonment Rate
Goal 20 Abandonment Rate
Total Abandonment Rate
Dimensions
Browser
Browser Version
Operating System
Operating System Version
Mobile Device Branding
Mobile Device Model
Mobile Input Selector
Mobile Device Info
Mobile Device Marketing Name
Device Category
Browser Size
Data Source
Dimensions
Continent
Sub Continent
Country
Region
Metro
City
Latitude
Longitude
Network Domain
Service Provider
City ID
Continent ID
Country ISO Code
Metro Id
Region ID
Region ISO Code
Sub Continent Code
Dimensions
Flash Version
Java Support
Language
Screen Colors
Source Property Display Name
Source Property Tracking ID
Screen Resolution
Dimensions
Hostname
Page
Page path level 1
Page path level 2
Page path level 3
Page path level 4
Page Title
Landing Page
Second Page
Exit Page
Previous Page Path
Page Depth
Metrics
Page Value
Entrances
Entrances / Pageviews
Pageviews
Pages / Session
Unique Pageviews
Time on Page
Avg. Time on Page
Exits
% Exit
Dimensions
Landing Page Group 1
Landing Page Group 2
Landing Page Group 3
Landing Page Group 4
Landing Page Group 5
Previous Page Group 1
Previous Page Group 2
Previous Page Group 3
Previous Page Group 4
Previous Page Group 5
Page Group 1
Page Group 2
Page Group 3
Page Group 4
Page Group 5
Metrics
Unique Views 1
Unique Views 2
Unique Views 3
Unique Views 4
Unique Views 5
Dimensions
Site Search Status
Search Term
Refined Keyword
Site Search Category
Start Page
Destination Page
Search Destination Page
Metrics
Results Pageviews
Total Unique Searches
Results Pageviews / Search
Sessions with Search
% Sessions with Search
Search Depth
Avg. Search Depth
Search Refinements
% Search Refinements
Time after Search
Time after Search
Search Exits
% Search Exits
Site Search Goal 1 Conversion Rate
Site Search Goal 2 Conversion Rate
Site Search Goal 3 Conversion Rate
Site Search Goal 4 Conversion Rate
Site Search Goal 5 Conversion Rate
Site Search Goal 6 Conversion Rate
Site Search Goal 7 Conversion Rate
Site Search Goal 8 Conversion Rate
Site Search Goal 9 Conversion Rate
Site Search Goal 10 Conversion Rate
Site Search Goal 11 Conversion Rate
Site Search Goal 12 Conversion Rate
Site Search Goal 13 Conversion Rate
Site Search Goal 14 Conversion Rate
Site Search Goal 15 Conversion Rate
Site Search Goal 16 Conversion Rate
Site Search Goal 17 Conversion Rate
Site Search Goal 18 Conversion Rate
Site Search Goal 19 Conversion Rate
Site Search Goal 20 Conversion Rate
Site Search Goal Conversion Rate
Per Search Goal Value
Metrics
Page Load Time (ms)
Page Load Sample
Avg. Page Load Time (sec)
Domain Lookup Time (ms)
Avg. Domain Lookup Time (sec)
Page Download Time (ms)
Avg. Page Download Time (sec)
Redirection Time (ms)
Avg. Redirection Time (sec)
Server Connection Time (ms)
Avg. Server Connection Time (sec)
Server Response Time (ms)
Avg. Server Response Time (sec)
Speed Metrics Sample
Document Interactive Time (ms)
Avg. Document Interactive Time (sec)
Document Content Loaded Time (ms)
Avg. Document Content Loaded Time (sec)
DOM Latency Metrics Sample
Dimensions
App Installer ID
App Version
App Name
App ID
Screen Name
Screen Depth
Landing Screen
Exit Screen
Metrics
Screen Views
Unique Screen Views
Screens / Session
Time on Screen
Avg. Time on Screen
Dimensions
Event Category
Event Action
Event Label
Metrics
Total Events
Unique Events
Event Value
Avg. Value
Sessions with Event
Events / Session with Event
Dimensions
Transaction ID
Affiliation
Sessions to Transaction
Days to Transaction
Product SKU
Product
Product Category
Currency Code
Checkout Options
Internal Promotion Creative
Internal Promotion ID
Internal Promotion Name
Internal Promotion Position
Order Coupon Code
Product Brand
Product Category (Enhanced Ecommerce)
Product Category Level 1
Product Category Level 2
Product Category Level 3
Product Category Level 4
Product Category Level 5
Product Coupon Code
Product List Name
Product List Position
Product Variant
Shopping Stage
Metrics
Transactions
Ecommerce Conversion Rate
Revenue
Avg. Order Value
Per Session Value
Shipping
Tax
Total Value
Quantity
Unique Purchases
Avg. Price
Product Revenue
Avg. QTY
Local Revenue
Local Shipping
Local Tax
Local Product Revenue
Buy-to-Detail Rate
Cart-to-Detail Rate
Internal Promotion CTR
Internal Promotion Clicks
Internal Promotion Views
Local Product Refund Amount
Local Refund Amount
Product Adds To Cart
Product Checkouts
Product Detail Views
Product List CTR
Product List Clicks
Product List Views
Product Refund Amount
Product Refunds
Product Removes From Cart
Product Revenue per Purchase
Quantity Added To Cart
Quantity Checked Out
Quantity Refunded
Quantity Removed From Cart
Refund Amount
Revenue per User
Refunds
Transactions per User
Dimensions
Social Network
Social Action
Social Network and Action (Hit)
Social Entity
Social Type
Metrics
Social Actions
Unique Social Actions
Actions Per Social Session
Dimensions
Timing Category
Timing Label
Timing Variable
Metrics
User Timing (ms)
User Timing Sample
Avg. User Timing (sec)
Dimensions
Exception Description
Metrics
Exceptions
Exceptions / Screen
Crashes
Crashes / Screen
Dimensions
Experiment ID
Variant
Experiment ID with Variant
Experiment Name
Custom variables or columns
Metrics
Calculated Metric
Dimensions
Date
Year
Month of the year
Week of the Year
Day of the month
Hour
Minute
Month Index
Week Index
Day Index
Minute Index
Day of Week
Day of Week Name
Hour of Day
Date Hour and Minute
Month of Year
Week of Year
ISO Week of the Year
ISO Year
ISO Week of ISO Year
Hour Index
Doubleclick campaign manager
Dimensions
CM360 Ad (GA Model)
CM360 Ad ID (GA Model)
CM360 Ad Type (GA Model)
CM360 Ad Type ID
CM360 Advertiser (GA Model)
CM360 Advertiser ID (GA Model)
CM360 Campaign (GA Model)
CM360 Campaign ID (GA Model)
CM360 Creative ID (GA Model)
CM360 Creative (GA Model)
CM360 Rendering ID (GA Model)
CM360 Creative Type (GA Model)
CM360 Creative Type ID (GA Model)
CM360 Creative Version (GA Model)
CM360 Site (GA Model)
CM360 Site ID (GA Model)
CM360 Placement (GA Model)
CM360 Placement ID (GA Model)
CM360 Floodlight Configuration ID (GA Model)
CM360 Activity
CM360 Activity and Group
CM360 Activity Group
CM360 Activity Group ID
CM360 Activity ID
CM360 Advertiser ID
CM360 Floodlight Configuration ID
CM360 Ad
CM360 Ad ID (CM360 Model)
CM360 Ad Type (CM360 Model)
CM360 Ad Type ID (CM360 Model)
CM360 Advertiser (CM360 Model)
CM360 Advertiser ID (CM360 Model)
CM360 Attribution Type (CM360 Model)
CM360 Campaign (CM360 Model)
CM360 Campaign ID (CM360 Model)
CM360 Creative ID (CM360 Model)
CM360 Creative (CM360 Model)
CM360 Rendering ID (CM360 Model)
CM360 Creative Type (CM360 Model)
CM360 Creative Type ID (CM360 Model)
CM360 Creative Version (CM360 Model)
CM360 Site (CM360 Model)
CM360 Site ID (CM360 Model)
CM360 Placement (CM360 Model)
CM360 Placement ID (CM360 Model)
CM360 Floodlight Configuration ID (CM360 Model)
Metrics
CM Conversions
CM Revenue
CM CPC
CM CTR
CM Clicks
CM Cost
CM Impressions
CM ROAS
CM RPC
Dimensions
Age
Gender
Other Category
Affinity Category (reach)
In-Market Segment
Metrics
AdSense Revenue
AdSense Ad Units Viewed
AdSense Impressions
AdSense Ads Clicked
AdSense Page Impressions
AdSense CTR
AdSense eCPM
AdSense Exits
AdSense Viewable Impression %
AdSense Coverage
Metrics
Publisher Impressions
Publisher Coverage
Publisher Monetized Pageviews
Publisher Impressions / Session
Publisher Viewable Impressions %
Publisher Clicks
Publisher CTR
Publisher Revenue
Publisher Revenue / 1000 Sessions
Publisher eCPM
Metrics
AdX Impressions
AdX Coverage
AdX Monetized Pageviews
AdX Impressions / Session
AdX Viewable Impressions %
AdX Clicks
AdX CTR
AdX Revenue
AdX Revenue / 1000 Sessions
AdX eCPM
Doubleclick for publishers backfill
Dimensions
GAM Line Item Id
GAM Line Item Name
Metrics
GAM Backfill Impressions
GAM Backfill Coverage
GAM Backfill Monetized Pageviews
GAM Backfill Impressions / Session
GAM Backfill Viewable Impressions %
GAM Backfill Clicks
GAM Backfill CTR
GAM Backfill Revenue
GAM Backfill Revenue / 1000 Sessions
GAM Backfill eCPM
Doubleclick for publishers
Metrics
GAM Impressions
GAM Coverage
GAM Monetized Pageviews
GAM Impressions / Session
GAM Viewable Impressions %
GAM Clicks
GAM CTR
GAM Revenue
GAM Revenue / 1000 Sessions
GAM eCPM
Lifetime value and cohorts
Dimensions
Acquisition Campaign
Acquisition Medium
Acquisition Source
Acquisition Source / Medium
Acquisition Channel
Cohort
Day
Month
Week
Metrics
Users
Appviews per User
Appviews Per User (LTV)
Goal Completions per User
Goal Completions Per User (LTV)
Pageviews per User
Pageviews Per User (LTV)
User Retention
Revenue per User
Revenue Per User (LTV)
Session Duration per User
Session Duration Per User (LTV)
Sessions per User
Sessions Per User (LTV)
Total Users
Users
Dimensions
Default Channel Grouping
Dimensions
DV360 Advertiser (GA Model)
DV360 Advertiser ID (GA Model)
DV360 Creative ID (GA Model)
DV360 Exchange (GA Model)
DV360 Exchange ID (GA Model)
DV360 Insertion Order (GA Model)
DV360 Insertion Order ID (GA Model)
DV360 Line Item NAME (GA Model)
DV360 Line Item ID (GA Model)
DV360 Site (GA Model)
DV360 Site ID (GA Model)
DV360 Advertiser (CM360 Model)
DV360 Advertiser ID (CM360 Model)
DV360 Creative ID (CM360 Model)
DV360 Exchange (CM360 Model)
DV360 Exchange ID (CM360 Model)
DV360 Insertion Order (CM360 Model)
DV360 Insertion Order ID (CM360 Model)
DV360 Line Item (CM360 Model)
DV360 Line Item ID (CM360 Model)
DV360 Site (CM360 Model)
DV360 Site ID (CM360 Model)
Metrics
DV360 eCPA
DV360 eCPC
DV360 eCPM
DV360 CTR
DV360 Clicks
DV360 Conversions
DV360 Cost
DV360 Impressions
DV360 ROAS
Dimensions
SA360 Ad Group
SA360 Ad Group ID
SA360 Advertiser
SA360 Advertiser ID
SA360 Agency
SA360 Agency ID
SA360 Campaign
SA360 Campaign ID
SA360 Engine Account
SA360 Engine Account ID
SA360 Keyword
SA360 Keyword ID
Metrics
SA360 CPC
SA360 CTR
SA360 Clicks
SA360 Cost
SA360 Impressions
SA360 Profit
SA360 ROAS
SA360 RPC
Other
Custom Dimension 1
Custom Dimension 2
Custom Dimension 3
Custom Dimension 4
Custom Dimension 5
Custom Dimension 6
Custom Dimension 7
Custom Dimension 8
Custom Dimension 9
Custom Dimension 10
Custom Dimension 11
Custom Dimension 12
Custom Dimension 13
Custom Dimension 14
Custom Dimension 15
Custom Dimension 16
Custom Dimension 17
Custom Dimension 18
Custom Dimension 19
Custom Dimension 20
Other
Custom Metric 1
Custom Metric 2
Custom Metric 3
Custom Metric 4
Custom Metric 5
Custom Metric 6
Custom Metric 7
Custom Metric 8
Custom Metric 9
Custom Metric 10
Custom Metric 11
Custom Metric 12
Custom Metric 13
Custom Metric 14
Custom Metric 15
Custom Metric 16
Custom Metric 17
Custom Metric 18
Custom Metric 19
Custom Metric 20
Other
Custom Goal 1
Custom Goal 2
Custom Goal 3
Custom Goal 4
Custom Goal 5
Custom Goal 6
Custom Goal 7
Custom Goal 8
Custom Goal 9
Custom Goal 10
Custom Goal 11
Custom Goal 12
Custom Goal 13
Custom Goal 14
Custom Goal 15
Custom Goal 16
Custom Goal 17
Custom Goal 18
Custom Goal 19
Custom Goal 20
Other
Custom Variable 1
Custom Variable 2
Custom Variable 3
Custom Variable 4
Custom Variable 5
---