Connect Your Facebook Insights Performance with All Your Data
Drive Meaningfull Insights from Facebook Insights
Facebook is a social networking platform focusing on technologies that connect people
Automatically pull data from Facebook Insights, which can then be grouped with data from other marketing platforms and automatically fed into your Data Warehouse, BI solution or visualization tool.
With just a few clicks, connect your Facebook Insights account to any data warehouse of your choice and watch your data load in real-time. Experience a hassle-free, zero-maintenance data load.
Stop downloading your campaign data into an excel or Google Sheet.

Connect to the Facebook Insights API and transfer your paid and organic data to your preferred data warehouse.

Connect to all of your accounts with with one job and load the data in the same table for easy analysis.

Daily updates ensure your data is updated as of yesterday, and our refresh capabilities ensure your report's campaign attribution matches what you see in Facebook ads manager.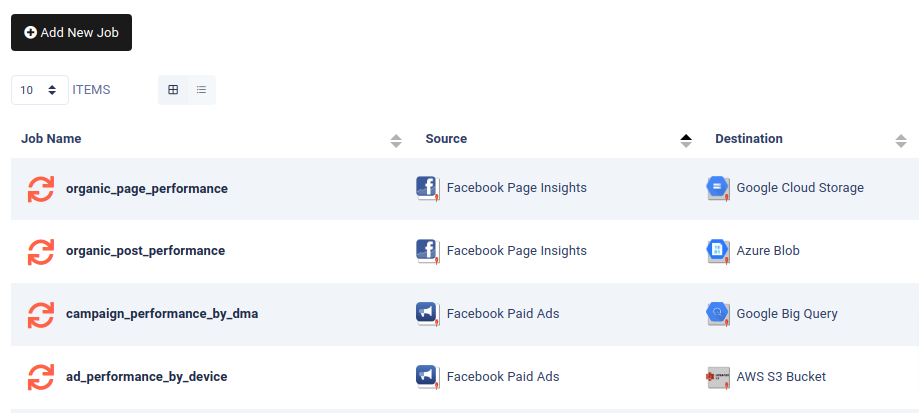 ---
What data can I get from Facebook Insights?
Available endpoints and fields are available from Facebook Insights through Launchpad.
Facebook Page Insights
Page Tab Views Login Top Unique
Page Tab Views Login Top
Page Tab Views Logout Top
Page Impressions By Story Type
Page Total Actions
Page Cta Clicks Logged In Total
Page Cta Clicks Logged In Unique
Page Cta Clicks By Site Logged In Unique
Page Cta Clicks By Age Gender Logged In Unique
Page Cta Clicks Logged In By Country Unique
Page Cta Clicks Logged In By City Unique
Page Call Phone Clicks Logged In Unique
Page Call Phone Clicks By Age Gender Logged In Unique
Page Call Phone Clicks Logged In By Country Unique
Page Call Phone Clicks Logged In By City Unique
Page Call Phone Clicks By Site Logged In Unique
Page Get Directions Clicks Logged In Unique
Page Get Directions Clicks By Age Gender Logged In Unique
Page Get Directions Clicks Logged In By Country Unique
Page Get Directions Clicks Logged In By City Unique
Page Get Directions Clicks By Site Logged In Unique
Page Website Clicks Logged In Unique
Page Website Clicks By Age Gender Logged In Unique
Page Website Clicks Logged In By Country Unique
Page Website Clicks Logged In By City Unique
Page Website Clicks By Site Logged In Unique
Page Engaged Users
Page Post Engagements*
Page Consumptions
Page Consumptions Unique
Page Consumptions By Consumption Type
Page Consumptions By Consumption Type Unique
Page Places Checkin Total
Page Places Checkin Total Unique
Page Places Checkin Mobile
Page Places Checkin Mobile Unique
Page Negative Feedback
Page Negative Feedback Unique
Page Negative Feedback By Type
Page Negative Feedback By Type Unique
Page Positive Feedback By Type
Page Positive Feedback By Type Unique
Page Fans Online
Page Fans Online Per Day
Page Fan Adds By Paid Non Paid Unique
Page Impressions*
Page Impressions Unique*
Page Impressions Paid*
Page Impressions Paid Unique*
Page Impressions Organic*
Page Impressions Organic Unique*
Page Impressions Viral*
Page Impressions Viral Unique*
Page Impressions Nonviral*
Page Impressions Nonviral Unique*
Page Impressions By Story Type Unique
Page Impressions By City Unique
Page Impressions By Country Unique
Page Impressions By Locale Unique
Page Impressions By Age Gender Unique
Page Impressions Frequency Distribution
Page Impressions Viral Frequency Distribution
Page Posts Impressions*
Page Posts Impressions Unique*
Page Posts Impressions Paid*
Page Posts Impressions Paid Unique*
Page Posts Impressions Organic*
Page Posts Impressions Organic Unique*
Page Posts Served Impressions Organic Unique
Page Posts Impressions Viral*
Page Posts Impressions Viral Unique*
Page Posts Impressions Nonviral*
Page Posts Impressions Nonviral Unique*
Page Posts Impressions Frequency Distribution
Page Actions Post Reactions Like Total
Page Actions Post Reactions Love Total
Page Actions Post Reactions Wow Total
Page Actions Post Reactions Haha Total
Page Actions Post Reactions Sorry Total
Page Actions Post Reactions Anger Total
Page Actions Post Reactions Total
Page Fans
Page Fans Locale
Page Fans City
Page Fans Country
Page Fans Gender Age
Page Fan Adds
Page Fan Adds Unique
Page Fans By Like Source
Page Fans By Like Source Unique
Page Fan Removes
Page Fan Removes Unique
Page Fans By Unlike Source Unique
Page Video Views
Page Video Views Paid
Page Video Views Organic
Page Video Views By Paid Non Paid*
Page Video Views Autoplayed
Page Video Views Click To Play
Page Video Views Unique
Page Video Repeat Views
Page Video Complete Views 30s
Page Video Complete Views 30s Paid
Page Video Complete Views 30s Organic
Page Video Complete Views 30s Autoplayed
Page Video Complete Views 30s Click To Play
Page Video Complete Views 30s Unique
Page Video Complete Views 30s Repeat Views
Page Video Views 10s
Page Video Views 10s Paid
Page Video Views 10s Organic
Page Video Views 10s Autoplayed
Page Video Views 10s Click To Play
Page Video Views 10s Unique
Page Video Views 10s Repeat
Page Video View Time
Page Views Total
Page Views Logout
Page Views Logged In Total
Page Views Logged In Unique
Page Views External Referrals
Page Views By Profile Tab Total
Page Views By Profile Tab Logged In Unique
Page Views By Internal Referer Logged In Unique
Page Views By Site Logged In Unique
Page Views By Age Gender Logged In Unique
Page Views By Referers Logged In Unique
Post Video Views Organic
Post Video Views Paid
Post Video Views
Post Video Views Unique
Post Video Views 60s Excludes Shorter*
Post Video Views 10s
Post Video Views 10s Paid
Post Video View Time
Post Video View Time Organic
Post Video View Time By Region Id
Page Content Activity By Action Type Unique
Page Content Activity By Age Gender Unique
Page Content Activity By City Unique
Page Content Activity By Country Unique
Page Content Activity By Locale Unique
Page Content Activity
Page Content Activity By Action Type
Page Daily Video Ad Break Ad Impressions By Crosspost Status
Page Daily Video Ad Break Cpm By Crosspost Status
Page Daily Video Ad Break Earnings By Crosspost Status
Post Video Ad Break Ad Impressions
Post Video Ad Break Earnings
Post Video Ad Break Ad Cpm
Facebook Post Insights
Id
Actions
Allowed Advertising Objects
Application
Attachments
Backdated Time
Can Reply Privately
Created Time
Full Picture
Icon
Instagram Eligibility
Is Eligible For Promotion
Is Expired
Is Hidden
Is Instagram Eligible
Is Popular
Is Published
Is Spherical
Message
Parent Id
Permalink Url
Place
Privacy
Promotable Id
Sheduled Publish Time
Shares
Status Type
Story
Subscribed
Updated Time
Post Engaged Users
Post Negative Feedback
Post Negative Feedback Unique
Post Negative Feedback By Type
Post Negative Feedback By Type Unique
Post Engaged Fan
Post Clicks
Post Clicks Unique
Post Clicks By Type
Post Clicks By Type Unique
Post Impressions
Post Impressions Unique
Post Impressions Paid
Post Impressions Paid Unique
Post Impressions Fan
Post Impressions Fan Unique
Post Impressions Fan Paid
Post Impressions Fan Paid Unique
Post Impressions Organic
Post Impressions Organic Unique
Post Impressions Viral
Post Impressions Viral Unique
Post Impressions Nonviral
Post Impressions Nonviral Unique
Post Impressions By Story Type
Post Impressions By Story Type Unique
Post Reactions Like Total
Post Reactions Love Total
Post Reactions Wow Total
Post Reactions Haha Total
Post Reactions Sorry Total
Post Reactions Anger Total
Post Reactions By Type Total
---